Tuna tataki is a simple Japanese dish that combines delicate, gently-seared tuna with a citrus-soy sauce given a gentle ginger kick. It's easy to make and makes a great appetizer or component to a light bento box-style meal.
Every now and then, I get a bit of a sushi craving. Strangely, though, despite everything else I cook and that we are lucky enough to have two really good fish markets nearby, I rarely make it myself.
I'm not totally sure why since I do make things like scallop ceviche and Korean sashimi rice bowl (hoedeopbap) now and then. I suspect I'm just worried I'll never get my sushi rolling skills right. But there are, of course, other options like sashimi, and semi-raw dishes like this tuna tataki.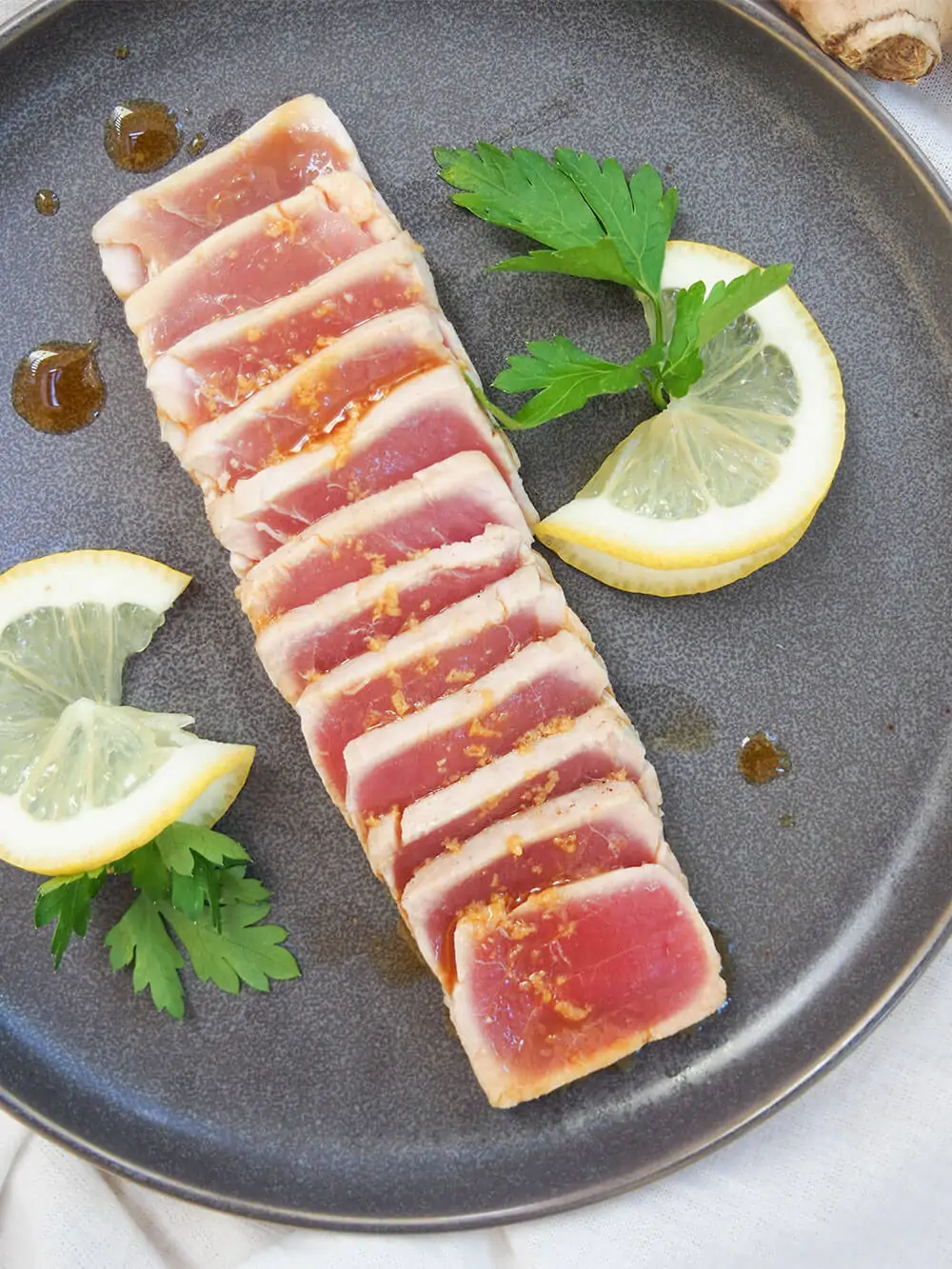 WHAT IS TUNA TATAKI?
The name tuna tataki can actually refer to two different Japanese dishes. One is what I have made here, quick-seared tuna cut in slices and served with a citrus-soy sauce. The other is more like a Japanese-flavored tartare, where the tuna is diced small and mixed with typically ginger and other flavors.
I'm sure I'll attempt the latter style in due course, but in the meantime this dish is so easy and delicious, it will definitely be happening again soon.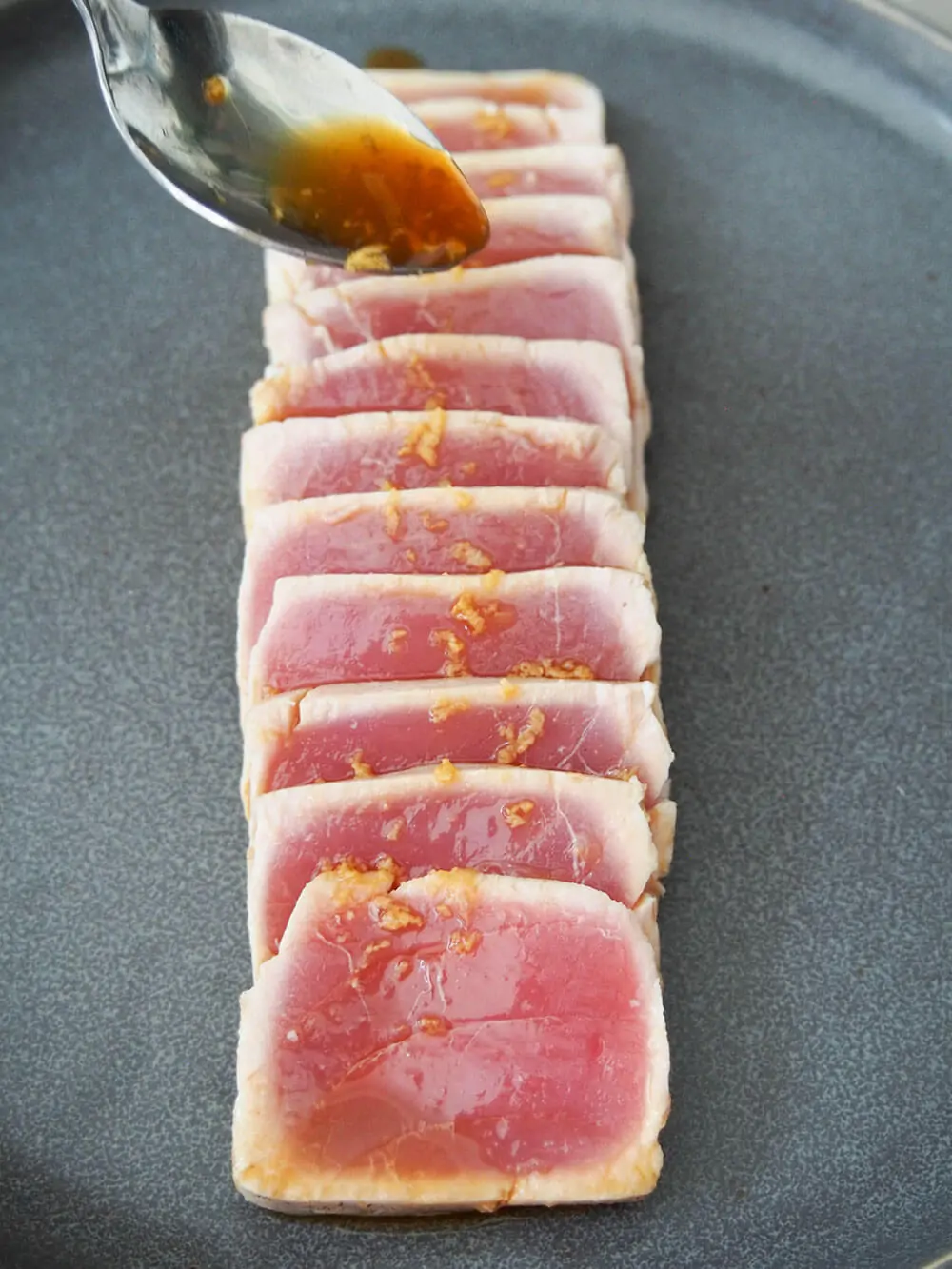 WHAT IS THE SAUCE WITH TATAKI?
The sauce with tataki can vary, but most use a ginger ponzu sauce. Ponzu is essentially a mix of soy and citrus. Typically, this would include local citrus like yuzu, but you can approximate the flavors using more familiar ingredients, as I have here.
Ponzu typically includes seaweed and/or dashi as well as some other additions and you boil the soy-mirin mixture together with the seaweed before straining. Here I've skipped the boiling and the seaweed to be quicker. Given there is also ginger in this version, for me there's plenty going on flavor-wise.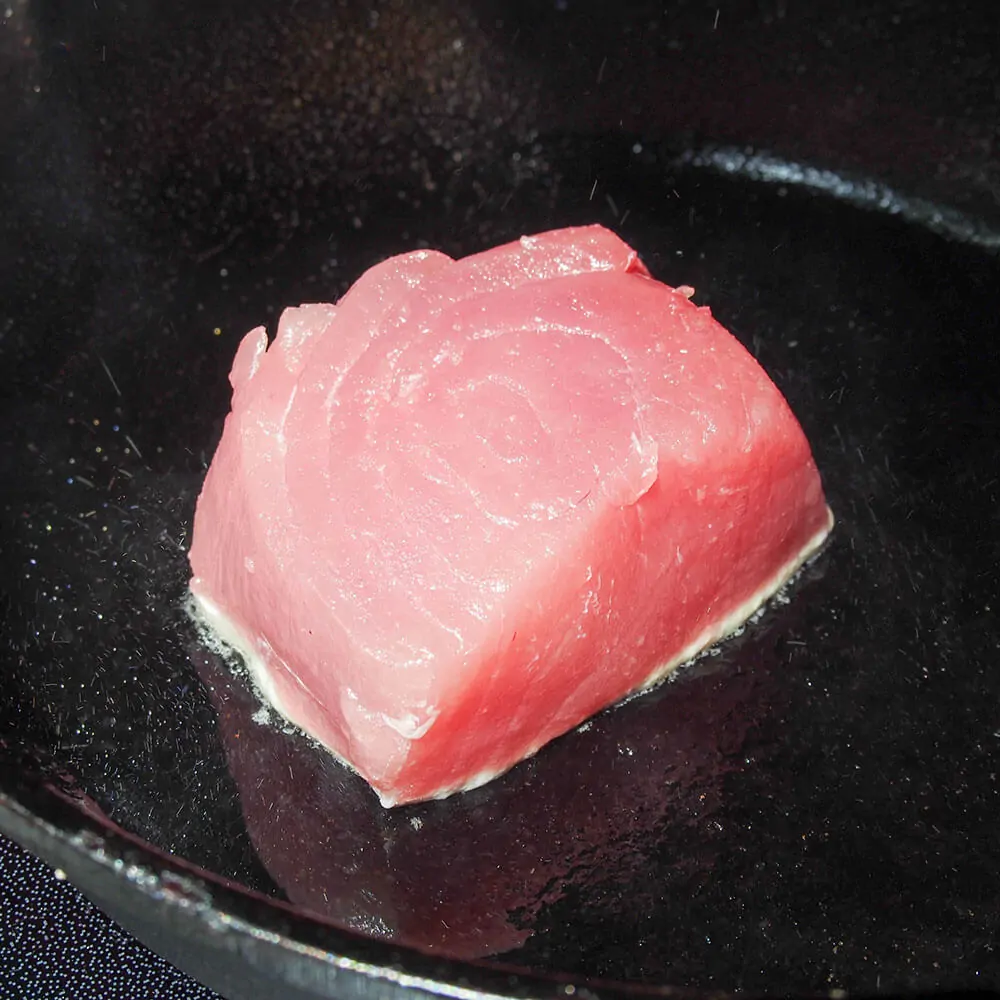 TIPS FOR SEARING TUNA
When you cook the tuna, make sure you pat the tuna dry if it seems at all moist. This saves you having too much spluttering. Also, make sure the pan is hot enough before you add the tuna to the pan. It may feel off-putting to have the oil smoking, but believe me it needs to be. The temperature will go down when you add the cold fish, so it needs to be hot enough before.
Watch the tuna closely as it cooks and only leave it a short time each side. You can sear a little more than I did here, but don't sear more than a minute each side. Let the tuna rest a couple minutes before slicing and make sure you use a really sharp knife to slice.
Tuna tataki is really easy to make, with delicate and delicious flavors. It makes a great appetizer, or combine it with other dishes like miso soup, salads and dumplings for a bento box style meal. However you have it, enjoy!
Let's Cook
Prep Time: 10 mins   |   Cook Time: 2 mins   |   Total Time: 12 mins
Ingredients
1 tablespoon soy sauce
1 tablespoon orange juice
½ tablespoon lemon juice
½ teaspoon mirin
¼ teaspoon freshly grated ginger
1 ½ tablespoon oil (for frying – peanut oil or other high smoke point/flavorless best)
½ lb yellow fin tuna 225g, sushi grade ideally in a square/rectangular block
Instructions
In a small bowl, mix together the orange juice, lemon juice, soy sauce, mirin and ginger. Set aside.
If your piece of tuna is wider, cut it into two similar-sized pieces, ideally both square/rectangular ended and even width.
Warm the oil in a skillet big enough for the piece of tuna over a medium-high heat until it starts to smoke slightly.
Add the tuna to the pan and cook for no more than around 30-45 seconds each side to sear it. Remove from the pan and set aside a couple minutes.
Using a very sharp knife, cut the tuna thinly across the grain. Arrange the slices on a larger platter or two plates to serve. Drizzle over the sauce and decorate the plate, if you like eg with slices of lemon, green onions.
Notes
If you want to add a little more of a kick, you can add a pinch of red pepper flakes to the sauce. You can also add sliced jalepeños when you decorate. Typically a ponzu like this would also include dashi and/or dried bonito flakes for more umami flavor – feel free to add a small pinch.
To get a little more citrus flavor, you can rest the tuna on slices of lemon rather than just to decorate the plate.
Nutrition
Calories: 223kcal | Carbohydrates: 2g | Protein: 29g | Fat: 11g | Saturated Fat: 8g | Cholesterol: 44mg | Sodium: 563mg | Potassium: 519mg | Sugar: 1g | Vitamin A: 68IU | Vitamin C: 6mg | Iron: 1mg
Source: CarolinesCooking.com